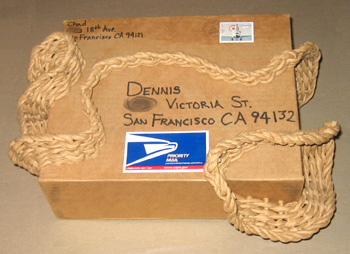 Box No. 1, (2002)
size: 10 inches tall
materials: cardboard box, twisted paper
price: Private Collection

This piece was sent through the US Mail as part of the Postalnauts project. The addresses have been blurred for privacy. The idea for this piece was primarily the material texture; I'd noticed the similarity between the twisted paper weaving materials and the cardboard boxes I was using for shipping.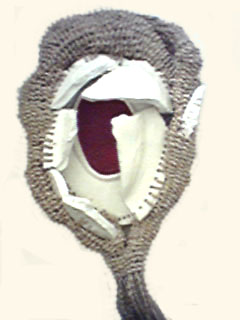 Hybrid No. 1, (2003)
size: 14 inches tall
materials: ceramic, sea grass, red wax
price: Private Collection

This was a collaboration with Dennis Aman. I asked him to make something out of ceramics for me to weave on. When he delivered the ceramic form I promptly dropped it onto the sidewalk so that I could re-assemble the broken pieces. The center is filled with red wax. I'll try to get a better picture...